Space travel, by rocket, starship, flying saucer, or space shuttle, has been a popular topic for songwriters, especially in the heavy metal and progressive rock genres. Songs about space travel and outer space have rocketed to the top of the charts a few times over the years. Space flight grabs our imagination, even in song.
1 – Space Oddity
(1969) by David Bowie. Ground control to Major Tom.... The most popular space travel song of all time.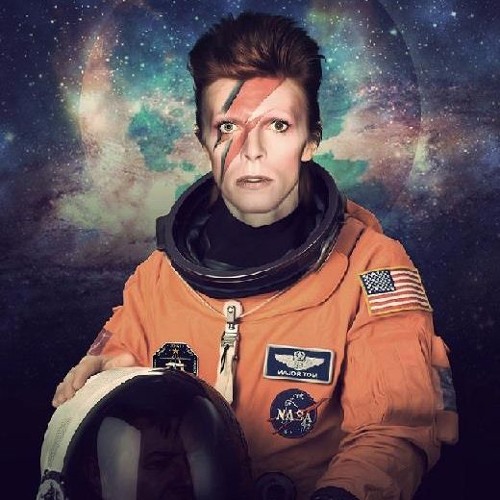 2 – "39"
by Queen from "A Night at the Opera" this song is about a man who gets onto a space ship in 2039 to look for a new planet, since Earth is dying. He returns a year later (to him), but finds that it's now 2139 on Earth, as time moves differently in space. All his friends are now dead. A poignant sci-fi ballad.
3 – Cygnus X-1
(1978) by Rush, which started on the album "A Farewell to Kings" and was continued on their next album "Hemispheres." On the space ship Rocinante.
4 – Major Tom
by Peter Schilling
5 – Rocketman
by Elton John
6 – My House on Mars
by Ayreon (2000)
, a magnificent story told perfectly in song.
7 – Star Trekkin'
(1987) by Firm, a comedic look that the sci-fi TV show.
8 – Supersonic Rocket Ship
by the Kinks
9 – Starman
(1972) by David Bowie from
The Rise and Fall of Ziggy Stardust and the Spiders of Mars.
10 – Mission of the Sacred Heart
(1977) by ELO, the Electric Light Orchestra, the songs is about a spaceship carrying a crew from a distant planet. They are hoping to settle on Earth, but are disappointed by Earth's state of affairs.
11 – Flash
by Queen, the superb (and fun) soundtrack to the mediocre sci-fi movie about Ming the Merciless.
12– Space Child
by UFO, from the Phenomenon LP. "High Flyer" was recorded by the same Schenker driven group, and also deserves a place on our space-flight song list..
13 – Venus and Mars
by Paul McCartney & Wings
14 – Starship Trooper
(1971) by Yes
15 – Calling Occupants of Interplanetary Craft
(1976) by Klaatu, a trippy 8 minute tune
16 – Jupiter Crash
(1996) by the Cure, inspired by the Shoemaker-Levy Comet
17 – Space Invader
by the Pretenders (1980)
18
–
Starship
by Jefferson Starship from "Blows Against the Empire" a sci-fi concept LP.
19 – Lost in Space
by Fountains of Wane (1999) and by Platinum Blonde (1985)
20 – Space Truckin'
(1972) by Deep Purple
21 – A Saucer Full of Secrets
by Pink Floyd
22 – Hyper Gamma Spaces
by Alan Parsons Project, who also recorded "Eye in the Sky"
23 – Spaceman Came Traveling
(1976) from Chris De Burgh

24 – Space Girl (1959) by Earth Boys

25 – Come Sail Away by Styx They climbed their star ship, and headed for the skies...
26 – Might as Well be on Mars
(1991) by Alice Cooper

27 – Space Odyssey (1968) from the Byrds

28 – Spaceboy (1993) by the Smashing Pumpkins

29 – Stairway to the Stars (1972) by Blue Oyster Cult, who also recorded Astronomy

30 – Space Safari (1974) by Nazareth

31 – Spaceman (1992) by 4 Non Blondes

32 – Time Warp (Instrumental) by Rick Derringer in 1973. Great tune while cruising the cosmos.

33 – Hyperdrive (1974) by Jefferson Starship

34 – Space Cowboy by Steve Miller Band
35 – Beyond the Black Hole
(1997) by Gamma Ray, a symphonic power metal band. This track is from their 5
th
CD: Somewhere Out in Space.

36 – Silver Machine by Hawkwind

37 – Silver Rocket (1988) Sonic Youth

38 – Spaceship (2006) by the Vines

39 – Rocket (1989) by Def Leppard

40 – Galaxy by War (1978)
More space-flight tunes than you could fit on your player. Set speed to full impulse. Insert tape/disc/data.... and cruise the mutara nebula. Enjoy these space travel songs, and do fly safely.